Free, Online Resources to Learn Malayalam!
Attukal Pongala
Attukal Pongala is an extremely popular, essentially women's festival celebrated in ancient Bhagavathy temple (Mudippura) at Attukal in the Kaladi ward of the Thiruvananthapuram district. It is a ten-day-long event which commences from the Bharani day (Karthika star) of the Malayalam month of Makaram-Kumbham (February-March) and comes to an end with the sacrificial offering known as Kuruthitharpanam at night.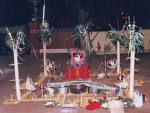 Ninth day is the biggest day of the festival when the famous Attukal Pongala Mahotsavam takes place. A large number of women of all castes and creed from Kerala and also from the state of Tamil Nadu make offerings for the Goddess by cooking pongala (a type of rice pudding) in the vicinity of the temple.

Significance of the Festival
Goddess Attukalamma is believed to be incarnation of 'Kannaki', the heroine of 'Silappathikaram' written by Tamil poet Illango in 2nd century A.D.
Attukal is the place where Kannaki took rest on her northward journey from Madurai to Kodungallur.

'Pongala' means to boil over. It refers to the customary offering of things which please the deity. It consists of porridge of rice, sweet brown molasses, coconut gratings, nuts and raisins.


Celebrating Attukal Pongala
Festivities begin Thottampattu (a song about Bhagavathi). These religious songs continue for nine days of the festival. On the ninth and the main day of Attukal Pongala thousands of women gather in the temple with materials for cooking Ponkala or Pongala.

The ritual of cooking starts early in the morning and by noon, Pongala would be ready. Then the Melsanthi (chief priest) arrives with Devi's sword and bless the ladies by sprinkling holy water and showering flowers. The 'blessed' Pongala is taken back to the house by the ladies.



Later, the idol of Devi is carried to Manacaud Sastha Temple in a colorful procession comprising of Thalapoli, Kuthiyottom, Annam, Vahanam, caparisoned elephants etc. Musical ensembles by famous artistes add to the festivities. En route onlookers greet the procession with Nirapara (a measure filled with paddy and decorated with flowers). The procession reaches back, the next morning, marking the end of the festival.