Malayalam Movie [Cinema] refers to films made in the Indian state of Kerala in Malayalam language. It forms a significant component of Indian cinema. Malayalam cinema remains the most popular medium of entertainment of the people of Kerala. Malayalam cinema is known for its socialistic leanings and it is one of the most realistic of Indian film industries. Malayalam cinema which occasionally makes box office success out of films without any commercial formulas, has been considered at a different league from the Bollywood. They are also sometimes referred to as mallu movies on the internet.
Download Malayalam Movies
Watch or download FREE Malayalam, Hindi, Tamil Movies, Mp3s, Video Songs, Cricket, Games, Wallpapers
History of Malayalam Cinema

Early Era

The first Malayalam film, titled Vigathakumaran was released in 1928. It was a silent film ,produced and directed by a businessman, J. C. Daniel who had no prior film experience. The second film Marthanda Varma based on a novel by C. V. Raman Pillai, was produced in 1933. But it was never released due to some legal disputes.


Balan released in 1938 was the first talkie in Malayalam. Its screenplay and songs were written by Muthukulam Raghavan Pillai and directed by S Nottani. It was produced at Chennai (then Madras) in the neighbouring state of Tamilnadu. Malayalam films continued to be made almost exclusively by Tamil producers till 1947 when the first major film studio, Udaya was established in Kerala.

List of Malayalam films from 1951 to 1960
Malayalam Cinema has always taken its themes from very relevant social issues and has been intervened with the fields of literature, drama and politics from the very beginning. Jeevithanauka(1951) was a musical drama which spoke about the ego clashes in a joint family, the norm of the day. This movie was widely accepted and popular and can be mentioned as the first "Super Hit" seen by Malayalam Cinema. This success of the movie turned out to be sweet and sour at the same time. Although this success accelerated malayalam movie making, films that were produced after Jeevithanouka took up after this "success formula", hampering true creativity for a very long time.

In 1954, Neelakkuyil captured national interest by winning the President's silver medal. Scripted by the well-known Malayalam novelist Uroob and directed by P. Bhaskaran and Ramu Kariat, it is often considered as the first authentic Malayali film. Another notable production was Newspaper Boy (1955) which had elements of Italian neorealism.This film is noteworthy as the hard work of a group of amateur college students and spoke of the story of a printing press employee and his family hit by extreme poverty. Chemmeen (1965), directed by Ramu Kariat and based on a story by Thakazhi Sivasankara Pillai went on to become immensely popular and won the national award. It had music by Salil Chowdhury, songs by Manna Dey and editing by Hrishikesh Mukherjee. The first colour film in Malayalam was Kandam Becha Coat.


1960's


The 60s saw the emergence of a new wave of cinema in Malayalam. The growth of film society movement in Kerala introduced the works of the French and Italian New Wave directors to the discerning Malayali film enthusiasts. Adoor Gopalakrishnan's first film Swayamvaram (1972) brought Malayalam cinema to the International film arena. In 1973 M. T. Vasudevan Nair who was by then recognized as an important author in Malayalam, directed his first film Nirmalyam, which won the President's Gold Medal for the best film. G. Aravindan followed Adoor's lead with his Uttarayanam in 1974.K. P. Kumaran's 'Adhithi' (1974) was another film which was acclaimed by the critics. John Abraham, K. R. Mohanan, K. G. George, and G. S. Panikkar were products of the Pune Film Institute who made significant contributions.

List of Malayalam films from 1976 to 1980

During the late 70s, a good propotion of the youth started seeing Malayalam Cinema as a medium of expression and thought of it as a tool to revitalize the society. A noted Director, Aravindan was famous in Kerala as a cartoonist before he started making films. His important movies include Kanchana Seeta (1977), Thampu (1978), Kummatty (1979), Chidambaram (1985), Oridathu (1986), and Vasthuhara (1990).

Want to see more Malayalam Movie Lists ?

Malayalam Art Cinema of the early 1980's

Adoor Gopalakrishnan made Elipathayam in 1981. This movie was widely acclaimed and won the British Film Institute award. His other movies include Mukhamukham (1984), Anantharam (1987) Mathilukal (1989), Vidheyan (1994), Kathapurushan (1995), and Nizhalkkuthu (2003). Padmarajan made his early works in this period including the movie Koodevide? (1983)

P. A. Backer and Bharathan are other names worth mentioning.


'Golden Age' of Malayalam cinema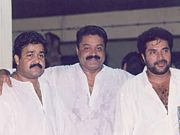 Mohanlal, Suresh Gopi and Mammootty carved a niche for them in the Malayalam film industry during the Golden Age and they have now become the most sought after actors in the industryMost critics and audiences consider this period from as the golden age of Malayalam cinema. The Malayalam cinema of this period was characterised by detailed screenplays dealing with everyday life with a lucid narration of plot intermingling with humour and melancholy. This was aided by brilliant cinematography and lighting as in motion pictures like Perumthachan (1990), directed by Ajayan with Santosh Sivan as the cinematographer. These films are also remembered for their warm background music by composers like Johnson, as in the motion picture Namukku parkkan munthiri thoppukal (1986) by Padmarajan.
Many of the movies released during this time narrowed the gap between art cinemas and commercial cinemas in the Malayalam film industry, as in Oru Vadakkan Veeragatha (1989). These were paralleled with movies like Kireedam (1989) directed by Sibi Malayil and written by Lohitadas, Mathilukal directed by Adoor Gopalakrishnan (1989), 'Amaram'(1991) directed by Bharathan, Kaakothikaavile Appoopan Thadikal(1988) directed by Kamal and 'Sargam'(1992) directed by Hariharan.
The period had an abundance of movies rich in creative humour from directors like Priyadarshan, Sathyan Anthikkad and Kamal. The era also saw well crafted comedy by the Duo Siddique-Lal, (Ramji Rao speaking (1989) and In Harihar Nagar (1990). Other notable contributions of this period include His Highness Abdullah (1990) directed by Sibi Malayil, Piravi (1989) by Shaji N. Karun, Abhayam (1991) directed by Sivan, and the motion picture Daisy (1988) an expressive depiction of separation and longing set in a Boarding school, directed by Prathap K Pothan.
Popular Malayalam Movies through early-mid 1990s
Films made during this period continued to stand out for their brilliance in storytelling and appeal. These include 'Bharatham' (1991) by Sibi Malayil, Ulladakkam(1991) directed by Kamal, Kaalapaani (1996) by Priyadarshan, and the award winning 'Manichitrathazhu' (1993) by Fazil. 'Sphadikam' (1995) directed by Bhadran was well received by the viewers as was 'Desadanam' (1997) by Jayaraaj. Some works stood out as strong in evocative power reminiscent of the earlier period, like Swaham (1994) directed by Shaji N.Karun, the first Malayalam film entry into the Cannes International Film Festival.


Popular Malayalam Movies through early-mid 2000's
Malayalm movies have seen a rare downward journey as softcore pornographic films made commercial gains.This gave malaylam movies a very bad name among general public on other parts of India who are unaware of the high standards Malayalam Movies followed till then . But These Softcore Porn Movies were never a part of mainstream cinema . The Malayalam film industry in recent times has been affected by the spread of satellite digital television and film piracy. Slapstick comedy is the predominant theme in the films of this era. Meesamadhavan (2002) by Lal Jose and Kunjikkoonan directed by Sasi Shankar (2002) are examples. However notable exceptions to these were Chinthavishtayaya Shyamala by Srinivasan (1998), Vanaprastham (1999) directed by Shaji N Karun, Maduranombarakaatu(2000), Meghamalhar(2001), Perumazhakaalam(2004) and Karuthapakshikal(2006) directed by Kamal.Sequels have been made of a number of successful films. These include Ravanaprabhu (Devasuram) and Nerariyan CBI (Oru CBI Diarykurippu). Generally movies at this period were of low quality.Malayam cinema has seen a rare dearth of talent . At the same time , Tamil movies had seen a surge of new talent in script writers , directors and actors alike . This resulted in increased popularity of Tamil and Hindi movies in Kerala . Several Film theatres were closed rural Kerala and were converted to Mariiage Halls.



Popular Culture Today
Today, it is quite common to see immigrated Indians of Malayalee origin have access to TV networks like AsiaNet, which they frequently watch at home as a pastime. It has almost become a stereotypical sight for second generation Malayalees to see their parents glued to television watching Kerala cinema. This occurrence is sometimes a source of humor and even revilement for conservative religious forces in the Malayalee culture. Additionally, because of the general atrophy of traditional morals and recent trespassing of longstanding cultural mores, many immigrant families now are starting to shy away from cultural cinema.


 Present

  Popular Malayalam Movies through mid-late 2000s
Malayalam movies have seen a real comeback in 2005. New directors such as Lal Jose , Roshan Andrews ,Blessy and Anwar Rasheed brought back original scripts to malayalm movie . Notable Movies of this era are Udayananu Tharam , Note Book , Classmates , Thanmatra , Kazhcha,Palunku, Keerthi Chakra , Raja Manikyam ,Vinoda Yatra , Rasa thanthram ,Arabi Kadha and Kadha Paryumbol. This era has seen new promising actors like Prithviraj , Narain , Jayasurya ,Meera Jasmin and Kavya Madhavan along with stalwarts Mohan Lal and Mammooty.


Organisations

AMMA
Main article: Association of Malayalam Movie Artists
The major actors and actresses of the Malayalam Cinema has recently formed an organization to safegaurd their interests and to fight against piracy. The Association of Malayalam Movie Artists better know as AMMA ( literal meaning : Mother ) aims to act against piracy, safegaurd the interests of member actors and actresses and act as a common forum to raise concerns and address issues. The organization is generally regarded as successful. The activities of "AMMA" include endowments, insurance schemes, and committees on wages and benefits on revision, fund for research, pensions, education loans for their children etc for the members. The organization has recently entered into Film production to raise funds for its activities.



Malayalam Movies, Free Malayalam Movies, Download Malayalam Movies, Tamil Movies, Telugu Movies, Kannada Movies, Hindi Movies, Malayalam Movies, English Movies, Tamil Actors, Telugu Actors, Kannada Actors, Hindi Actors, Malayalam Actors, Photo Gallery, Wallpapers, Actresses Pictures, Actresses Stills, Actress Photo Gallery, New releases, Movie Reviews, Comedy Films, Comedy Pictures, Songs, Movie Songs, Latest Songs, New Releases, New songs, Music, Movie News, Cinema News, Hollywood Movies, Bollywood Movies, Kollywood Movies.