Free, Online Resources to Learn Malayalam!
Kalasam
In Kerala the Kalasam Festival takes place in the month of Edavam (May-June). Although this is a popular festival and is observed in most of South India, there are slight variations on the dates this festival is celebrated.

Goddess Lakshmi symbolizes eight forces i.e Sri (wealth), Bhu (earth), Sarasvati (learning), Priti (love), Kriti (fire), Santhi (peace), Tushti (pleasure), Pushti (strength). Each of these forces is called as lakshmi and combined it is known as "Ashta (eight) Laksmi". So the puja(prayers) of Varalakshmi is equivilant to the puja of all eight forces/lakshmi.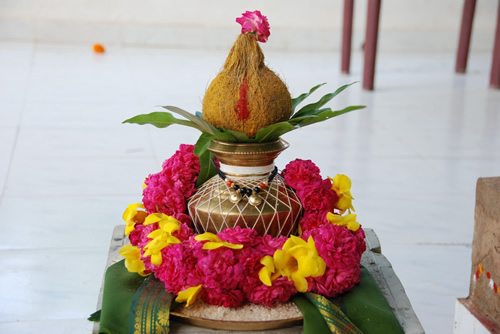 The Kalasam Festival involves the worshipping of the Varalakshmi Goddess. A bronze or a silver Kalasum (special pot) is filled with water, rice, lime and few coins. Five specific types of leaves including Betel leaves and Betel Nuts are also placed inside the Kalasam. The Kallasam Festival at the temple consists of smearing the pot with sandalwood paste and covering it with new cloth up to the neck, and then worshipping it.
A coconut placed on the top of the Kalsam represents the divine Mother Goddess. It is smeared with turmeric paste and mango leaves are placed around it. The shrine of the Varalakshmi Goddess is worshipped with sincerity and dedication during this time. People throng at the Madiyan Kooloom Temple at this time and pay homage to the Goddess.

This festival is mainly observed by women for the welfare of their husbands, children and household. The women ensure their homes have been cleaned to welcome the wealth and prosperiety. The women also observe fasts and abstinence. At their homes a statue of the Goddess Lakshmi is adorned with sparkling jewellery. A special prayers and foods are offered to the goddess both at homes and in the temple, which is taken as prasad (blessed food) by the people who come to worship.



At temples Theyyam forms a part and parcel of the Kallasam, it is a vibrant ritual dance and is one of the oldest of its kind in Kerala. It also helps people to witness some of the exquisite traditional dances, mimes and music.