Free, Online Resources to Learn Malayalam!
Navya Nair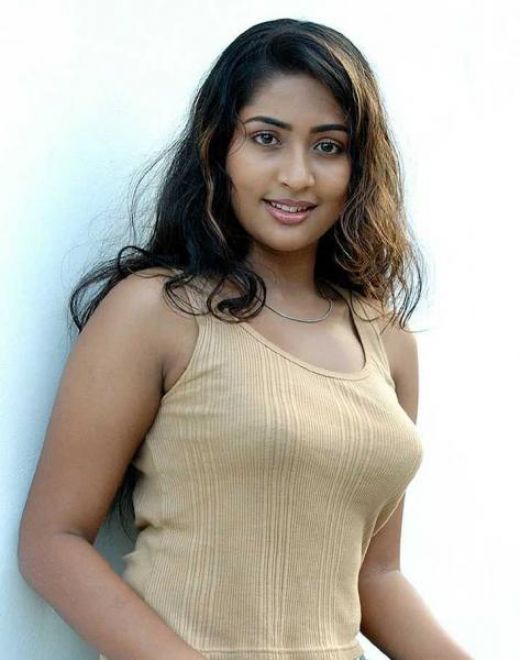 Navya Nair is an actress in Malayalam, Tamil and Kannada movies. She was born in Kerala, Cheppadu in 1984. She is rather more medium toned in her complexion than the traditional fair skinned actressess, and its these looks that give her a perfect village girl image which she often portrays in her films. Her actual name is Dhanya Nair. She was given the name "Navya" by her mother so as to be a lucky fortune to the Malayalam film industry. Her father, Rajan is working in the Telecom Subdivision and her Mother, Veena, is a teacher in M.S.M High Secondary school
Trained in dance from an early age, Navya has been a hyperactive teenager, whooping up at youth festivals and stage shows. She has won the honour of Kala Thilakam in the youth festival of Aleppey district, Kerala for her exceptional talent.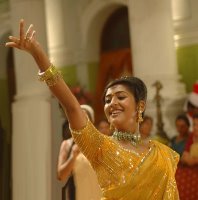 With her first movie 'Ishtam' opposite Dileep she attained admiration by winning the hearts of the Malayalees. Her second film Ranjit's Nandanam opposite Prithviraj established herself as one of the most promising of the new-generation actresses. She is also showing that she knows the physics of success very well. She stepped to Tamil film through 'Azhagiya Theeyee' which made a good impact in the minds of Tamil audience also. She is noted for her portrayal of the typical Malayali (Keralite) girl in various movies. She debuted in the Malayalam film Ishtam. She bagged the Kerala State Award for the Best Actress in 2002 for the film Nandanam and again in 2005 for her performance in films Kanne Madanguka and Saira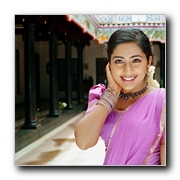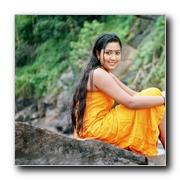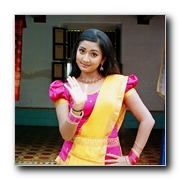 It is a fact that 2008 was not a good year for Navya Nair in Malayalam. Though she had only one film in her mother tongue so far (Kavyam), directed by Anish Varma and Santhosh starring Sureshgopi in the lead, Navya Nair was lucky in bagging more opportunities from other languages, especially Tamil and Kannada. This year, she signed three Tamil films (Aadum Koothu, Sila Nerangalil, Rasikkum Seemane and Raman Thediya Seethai) and two Kannada films (Gaja and Namma Yejamanru).

After going through a stiff time in Malayalam so far, Navya seems to be back with a big banner film Calendar opposite Malayalam superstar Prithviraj. Navya is presently on the sets of Calendar, directed by debutante Mahesh, planned as a hilarious comedy and slated for a Vishu release.

Navya is also the heroine of another Malayalam film Violet, starring Sureshgopi in the lead. Expected to hit the theatres in the beginning of 2009, Violet has completed the shoot for its first schedule.

Navya has also bagged a meaty role opposite Sarath Kumar in an untitled Tamil movie directed by Sanjay Ram. This movie will also have Mammootty in a prominent role. Let's hope 2009 will be a better year for Navya Nair in Malayalam.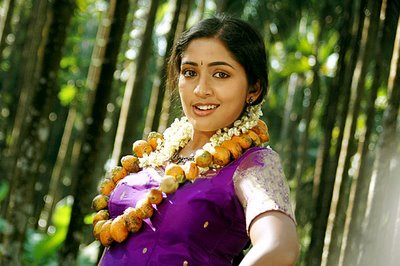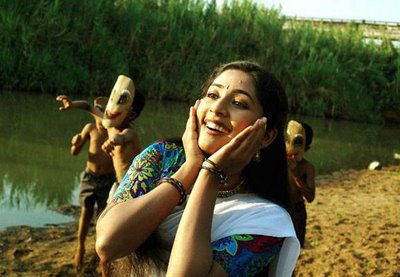 Nayva Nair Quotes:
"I had never thought of becoming an actress. Of course I took part in the school youth festivals and was even the overall champion. But coming to films was accidental. My photograph appeared on the cover page of a leading weekly and that was noticed by director Sibi Malayil and his associates. That's how 'Ishtam' happened."
"I love Tamil film very much. Here like a circle of angels, many reputed directors Maniratnam, Bharathi Raja, Mahendra are like guide to new faces to bring out the hidden and till now unused talent. Maniratnam always project female oriented roles in his movies. It is rare to get such value studded movies. I am eager to search for such roles and try to act in those characters."
"I was born in Alapuzha. Studies, songs and dance fully occupied my time those days. One fine morning I saw my still photo in the front cover of "Malayala Manorama" the largest circulation in Kerala. After seeing this, director Sibi Malayil asked me if I was keen to act in his film. My parents became fence sitters in allowing me. They don't have inclination to send me for acting."
"I have no plans to get married atleast for another five years. Maybe my parents are thinking about finding a groom for me."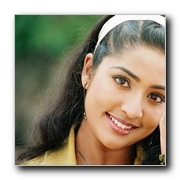 Random Trivia:
Navya has had plastic surgery performed on her lips as she met with an accident while shooting for a Malayalam film.