Free, Online Resources to Learn Malayalam!
Ochira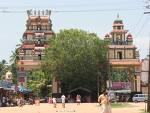 This is an annual festival celebrated at Ochira, a village near Kayamkulam in Thiruvananthapuram district.
Ochira, well known as Dakshina Kashi in the spiritual world, is a small town in Kollam district of Kerala( a southern state of India). Situated in the border of Kollam and Allappuzha districts, adjacent to the National Highway 47, Ochira attracts thousands of people everyday for both Pilgrimage and business.
The town is centered around the famous Parabrahma temple which is spread across 36 acres of open land on the west side of the freeway.

Ochira festival is celebrated in memory of a battle between the Rajas of Quilon (Kollam) and Kayamkulam. The fight is the final part of the festival of the Ochira Parabrahma temple here. Thousands of devotees, including residents and tourists, witness the festival.
The Dynasty of the king of Kayamkulam was spread over eight provinces. The battlefield is known as 'Ettukandam' or the eight fields. Ochira Kali is conducted on the first and second days of the Malayalam months Mithunam or Avany (June-July) annually during the monsoon season. For seven days beginning with the first, it is popularly believed that there will be incessant rain. For seven days beginning with the first, it is popularly believed that there will be incessant rain.
The participants fight each other in a mock battle standing in knee-deep water, brandishing mock swords and shields while splashing water and mud. On the first day, the fight is conducted from 8 am to 11 a.m. and on the second from 12 pm to 3 pm. Only men, usually from the Nair community could take part in it. The appearance of a kite hovering in the air summons the players to arms. Each player is dressed colourfully in the native attire and armed with a sword and shield.

The combatants do not fight in pairs but in sets. The parties advance towards each other, perform a number of movements forwards and backwards, with a single individual standing in front on each side. The movements are first slow, but as the fight progresses they become quicker and quicker. These resemble the movements of assault and retreat in regular warfare. The kite appears again and this time it is the signal for the tournament to stop. On the second day the same programme is repeated.