Free, Online Resources to Learn Malayalam!
Valentines Day India
There are many legends about St Valentine's Day, these are some of the following involving a martyr: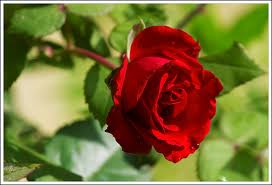 a) The most popular legend describes a young handsome christian Valentine who had a huge heart – he helped the needy, and helped heal the sick as a physician. He also partook in the illegal activity of Christian conversions, as well as helping young lovers to get married.  Valentines deeds reached the ears of Emperor Claudius II, who was very displeased and had Valentine arrested.
In jail Valentine continued his practices in secret, but his preachings were overheard by the jailers young blind daughter, who started to fall for Valentine. They spent many hours talking to each other, and soon fell in love. The blind girls greatest wish was to see Valentines face and with Valentines medicines and prayers, a miracle came about and the girl got her sight back.
Claudius however came to hear that even in jail Valentine had not accepted the Roman gods and neither had he given up his Christian practices.  So Claudius ordered Valentine to be put to death on This great man who died for his beliefs, for his enduring love of the Christian God, was chosen as the patron Saint of lovers.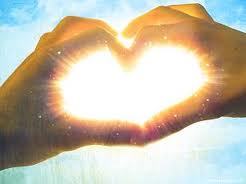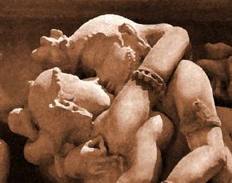 b) A christian priest Valentine served in Rome and lived around the 3rd century.  The Emperor of the time Claudius II believing that single men made better soldiers than those that were married, decreed that soldiers should stay single and outlawed marriage for young men, including Christian marriages and conversions. 
Valentine feeling that this was a great injustice, carried on performing marriages for young lovers in secret.  He also did not believe in Roman Gods.  When Claudius found out about Valentines deception and disobedience, Claudius had Valentine imprisoned and put to death. Valentine was said to have been executed on 14th February.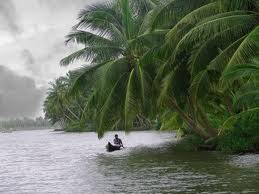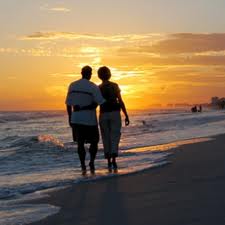 c) Another version of this tale, tells the story of Christian priest Valentine being killed for attempting to help Christians escape from Roman prisons where they were often tortured.
Around the world, wherever St Valentine's Day is celebrated, it is usually amongst those who wish to express their love to each other in the exchange gifts and flowers.
India being a country of different religions and castes, has also accepted this day as one of its own. A country that celebrates almost all the festivals of the world is not alien to this day of love. As the world remembers St. Valentines, India has its reasons to remember the Hindu lord of love, Kamdev. Lord Kamdev is a part of the Hindu myths and possesses a flowery bow. A belief in India says that the arrow that leaves his bow often strikes the lovers. The importance of Valentines Day in India grows every year. India being the land where the treatise of love took birth is now a part, as the world celebrates Valentines.

In India this recent phenomenon of St Valentines Day, has been embraced by the youth who are keen to integrate into western practices and traditions. Just as several other countries, people in India too celebrate the Valentine's Day by exchanging cards, flower and gifts.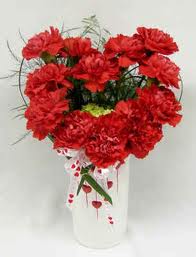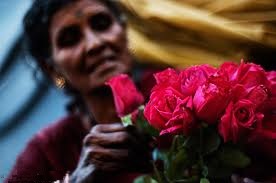 Euphoria of Valentine's Day festival can be experienced weeks before the festival.   There is a frenzy of promotions on Television, radio and print media. Gift marketers and card companies launch a rigorous campaign to lure young lovers. Card and gift shops are interestingly decorated with symbols of Valentine's Day including roses, cupid and heart shaped balloons. Shopping malls in metropolitan cities organize fun-filled competitions and distribute discount coupons to lure consumers. And street sellers are seen to increase their efforts on street corners and busy interjections with their temporary shops, selling valentines goods at a fraction of market price.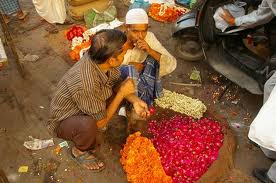 On February 14, the Valentine's Day restaurants, discos, Cineplex, pubs and pizza parlors see a particularly busy time as couples celebrate the day in togetherness. Many boys and girls even propose to their sweetheart on this romantic day. People also express love to their friends, teachers, siblings and parents. Popular Valentine's Day gifts exchanged in India include chocolates, fresh flowers, cards, soft toys and candies. Jewellery is one of the main gifts exchanged and which is available in different designs in India.
However there has been a spate of attacks towards young couples on Valentines Day.  In 2009 young couples seen in a park had their hair cut off by a Hindu nationalist group 'Shiv Sena' and reportedly they also forced a young couple to marry in Pune by making the couple exchange flower garlands.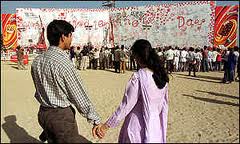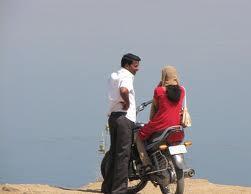 The Valentine's Day violence comes amid a "culture wars" debate over foreign influence in India.
The acts of displays of affection, and indeed the public celebration of affection and love has upset many traditionalist groups around India who feel that the Indian culture is under threat with the assimilation of western practices. It has long been taboo (and even illegal) in India to show public displays of affection.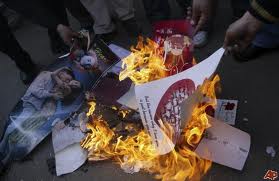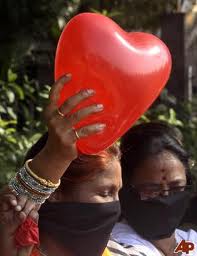 This is of course counter intuitive to the ethos of St Valentines Day- a day when people express their affection for others.

Despite the controversy, couples still flock to restaurants and cafes in Delhi's downtown Connaught Place for a Valentine's Day dinner and a special day with their loved ones.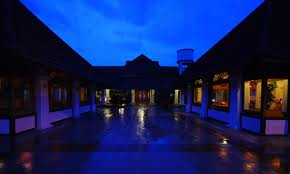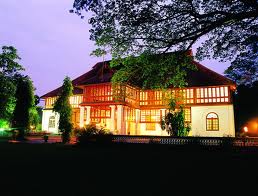 Even families in India collectively celebrate this day with their loved ones. In Delhi and Mumbai, the nightlife seems to be alive than ever on this day. In Pune too people are seen in various joints in the city having fun and celebrating the day with their families and lovers. Goa remains to be the hub for majority of the Indians. As the major Christian community remains in Goa, the day of Valentines is seen celebrated maximum in this state.

In Kerela – where there is a large Christian community -  St Valentine's Day has become a big phenomenon and Cochin celebrates St Valentine's day with parties, gifts and entertainment.   The main hot spot for love birds seem to be Marine Drive, Fort Cochin (where beautiful, romantic sunsets can be enjoyed by the water) and Blogatty Palace – amongst other restaurants and hotels, eager to cash in on the demands of consumers for romantic dinners.